New Building Fundraiser
New Building Fundraiser
Donation Form: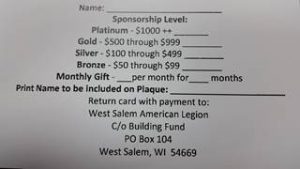 Thank you for your consideration & assistance with this project!
Donations for Veterans!
November 1 thru December 7th!
Janna Seeger , a West Salem High School Senior is completing her Senior Exit Project by volunteering at the Tomah VA hospital along with holding a donation drive to help veterans! Items may be dropped off at the Legion on Fridays and Hansen's IGA in West Salem.
Items needed:
Shampoo,
Body Wash (no bar soap),
Emery Boards,
Envelopes,
Pens & Pencils,
Notebooks & Folders,
Hair Brushes,
Lotion & Lip Balm,
Shoe Laces,
Tooth Brushes & Toothpaste.
Thank you for your consideration of this project to help Veterans.
Annual Veterans Shoe Drive
April 1 – 30, 2016
Please consider donating your gently used or new athletic/tennis shoes. Shoes are being collected, all sizes, (men's and women's) for Veterans in need.
Drop off any Friday night at Post #51 Clubroom – Downtown West Salem.
Shoes collected will be delivered to the Tomah VA for distribution.
One step can make all the difference! – Improving One Veteran's SOLE at a Time!
For any questions about the program, please call 608-372-3971 ext. 64201
Thank you for your help with our current project.